Femto Smile Lasik in Dubai, UAE

The new and safe technology in Laser vision correction
Using precise refractive femtosecond laser technology with lenticular extraction, Femto SMILE 3D is the latest innovation in laser vision correction. The procedure uses a very simple method to create a tiny 4 mm side-cut in the cornea. This means that most of the upper corneal layers are untouched, making the procedure much faster and recovery much quicker.
This new flapless technology offers undeniable advantages, since it has a minimal surgical impact on the corneal stability, as well as exceptional predictability of the refractive outcomes. From start to finish, the procedure takes 10 to 20 minutes and is performed in the most comfortable and assuring conditions, supervised by our specialist Dr. Tamer Salem. All these features and more make Femto SMILE 3D one of the quickest and safest procedures in the eye care industry today
With Femto SMILE 3D, you can enjoy the following benefits and advantages: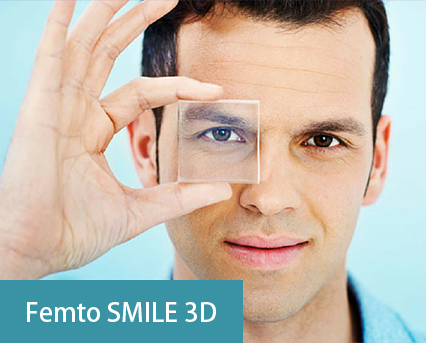 The difference between Femto LASIK and Femto SMILE 3D
Femto LASIK requires the patient to be placed under two machines, the first one being the femtosecond laser machine that cuts and creates a flap in the eye through which the cornea is tightened. This process involves direct contact to the eyeball as well as increased pressure of the surface of the eye. Although relatively quick, the process still requires the creation of a flap through laser cutting, but is far more accurate than a blade based procedure. After the flap has been created, the patient is moved to the Excimer Laser Machine, where the laser burns the corneal tissue in a precise and calculated manner to reshape the actual cornea. Once the laser ablation is done, the flap is repositioned back on to the surface to become a part of the cornea. The flap is then repositioned and it again becomes a part of the cornea.
Unlike the traditional LASIK procedure, Femto SMILE 3D takes place inside a completely closed environment, and doesn't require creating a flap or using blades. In Femto SMILE, the process is not only faster but also more efficient and technologically advanced. Using the highly advanced Visumax machine by Carl Zeiss, the world leaders in lens manufacturing and development, a femtosecond laser is generated which prepares the tissue lenticule inside the actual cornea itself. The thickness of this tissue varies from patient to patient, depending on the degree of power correction that is required. The machine uses a highly sophisticated cup that calibrates itself exactly as per the patient's corneal curvature. Just one small touch is all it takes, followed by a very mild change in eye pressure. The femtosecond laser creates the lenticule tissue disc inside the cornea, which is then extracted through a minute 2mm keyhole opening created through the laser and limited to the periphery of the cornea.
for more information like us, follow us, subscribe us